Интервю с Ulala Session
By Kim Ji-soo
Ulala, producers of hope, music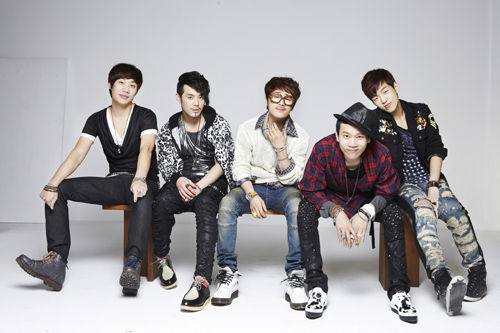 The boys originally came together because of their love of dance. But the boys, now men better known as ULALA Session, are highly regarded for their music, for providing a kaleidoscopic variety of on-stage performances and for their heart-moving story. rnAfter winning the "Super Star K3" last year, the group comprising leader Lim Yoon-taek, 31, Goon jo, 32, Kim Myung-hoon, 28, Park Seung-il, 31, and Park Kwang-sun, 22 have been caught up in the whirlwind of stardom. They refuse to be labeled stars, saying they don't have the "visuals" a.k.a. the looks or the "specific" details of having graduated from years of intensive training at mammoth entertainment agencies such as SM Entertainment or JYP Entertainment. But in a meeting room in their new agency building in Seogyo-dong, Mapo, northwestern Seoul, the green chalkboard detailing their schedule for September and October was white –filled with shows, events and concerts they had to do.
For the group that remained largely anonymous until last year, the hefty schedule is the same. Everything else — the audience response, the pay and the limelight are all different. "We used to just go about and perform anywhere, even in the middle of a schoolyard if there was a stage," said Park Seung-il. "But now we're enjoying really good happy days where there are a lot of people who like what we do. It's like a dream."rn"It's happy days," said Kim Myung-hoon. Then, both Kim and Goon Jo asked if they could be honest and said "It's a little tiring to be doing music and raising a kid," the two laughed in good spirits. Kim, one of the two married singers in the group, recently had a newborn daughter. The leader Lim was not at the interview. The story of Lim, who is suffering from stomach cancer, captured the heart of many audience members during the "Super Star K3" and onwards. People also responded warmly to his love story — he is married and has a child.
Lim's story, the strong bond of friendship among the members and the powerful vocal chords of Kim, Park Kwang-sun and Park Seung-il and the powerful moves of dancer Goon jo have enraptured the audience.  "I think for the audience we are approachable, unlike other 'star' entertainers. They relate to the stories of our lives, parts of which they can empathize with and share," Kim said. The winners of the two previous editions of "Super Star K" – Seo In-gook, and Heo Gak, a former boiler repairmen – also overcame obstacles to win the audition program. While their stories have the feel of "dreams come true," the story of ULALA Session is more akin to "miracles do happen." The group members are invariably tied through friendship, and a passion for dance and music. Koon Jo and Lim go way back to childhood, while Park Seung-il was a student of Lim's. Park Kwang-Sun was an avid fan of Lim, after becoming smitten with his dancing. Kim was renowned for his crooning vocal chords and was introduced through mutual friends to the other members, and voila, ULALA was formed.
They performed anywhere where there was a stage, as opening acts for star singers and in live music cafes along an upper stretch of the Han River in Misari, Gyeonggi Province. These were the days of non-stardom, and they lived the lives of any unknown group or singers but under the strict guidance of a leader. rn"Lim was strict. We thought he wasn't human," said Park Seung-il. But the leader's push to constantly train his members even at the loss of sleep helped when the group had to undergo a tough "survival audition" for "Super Star K3." The members said that the program was a hard experience where towards the end, the members had to exist on two-hours sleep.rn"In the end, it was all about who was most set on achieving their goal and remaining truly focused on it," Park Seung-il said.
The members were not even in favor of audition programs or looking to emulate other audition stars. "We didn't like audition programs," said Park Kwang-sun, the youngest member. "But (Lim) Yoon-taek chose to enter Super Star K3 because he thought it was the last thing he could do for us," said Seung-il. At the time of the audition, Lim had stage three stomach cancer and the members were focusing on Lim's medical fees. Entering and winning the audition and its 500 million won prize meant that the group could do something for themselves including concentrating more on Lim's treatment. Lately the leader has not been seen in public. "Recently, there were inflammation of the organs, but he has recovered to the stage where he is now undergoing therapy again," Park said. "Stage four cancer is different, and Lim has shown us he can work miracles, and we are pinning hope on him once again."
In a way, ULALA session provides variety in the boy- girl-group dominated K-pop scene. "It's great that we are different from the idol singers. They have fans whereas we have your regular audience, grandmothers, your fathers and mothers who open their hearts when they hear us sing. That's really good," said Park Kwang-sun. The members continued to joke throughout the interview that they were in a way really glad not be equipped with the "visuals" a.k.a. the looks or the "specifics" of having trained for years with mammoth entertainment agencies. "I mean the idols look great when they wear make-up. Us, we only look normal when we wear makeup," Park Kwang-sun said. "Not many people recognize us when we go about our daily lives, and that's also good."
But behind the self-deprecating banter and humor, the members seemed confident that they have built something uniquely their own during their lean years, before the Super Star K3 year. They did not want to define what "their won" was, something of a mix between musicians wanting to remain free versus musicians feeling the pressure to further grow and develop themselves before the eyes of the adoring public. "We have no motto in our music, but that's fine. We can be anything," Seung-il said. "We're not deep, more like a buffet," Kwang-sun chipped in. While they did not speak too deeply about the language of music, the group's camaraderie was evident and the passion for music running through their called leader Lim Yoon-taek.
The group is now planning to release an album when Lim is able to rejoin them. They released mini albums this year. "We are strong believers in Yoon-tek and looking forward to all five of us recording and performing on stage together," said Seung-il.
The Korea Times intern Baek Byung-yeul contributed to this article.