Интервю с Girls' Generation
By Kwon Mee-yoo
Girls' Generation redeemed with 'I Got a Boy'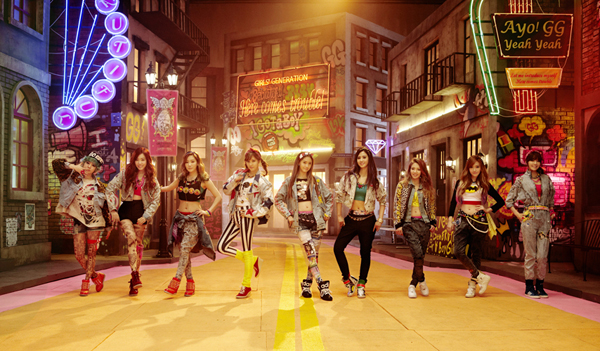 Arriving for a round of press interviews in Apgujeong-dong, Seoul, Jan. 8, the members of Girls' Generation were lovely even in their off-stage, every-day clothes.
Sixth year since its debut, the nine girls seemed more maturing girls than the dynamic, rapping powerful dancer/singers in their fourth full-length album "I Got a Boy."
Their title track "I Got a Boy," released on the first day of the year 2013, surprised the K-pop scene with fresh, unexpected music and style.
The song is an evolved form of K-pop, beginning with hip hop-style rap and developing into electronic dance and dubstep with the girls' harmonies. The song constantly modulates and changes beats. For the song, the girls' styles have changed. The girly girls are gone and the group has become much funkier, where the nine piece presented at least three totally different looks in punk, retro and military styles. They stepped down from signature high heels and changed into running shoes, adding more dynamism to their costume and dance performance.
Their fourth studio album received the most mixed reactions by far. Local music critics and fans were rather negative, claiming the music is too difficult. "We expected this. When we first heard the songs, we wondered whether we could sing and dance to this," the youngest member Seohyun said. "We know people prefer songs with easily recognizable, repeating hooks, but we can't remain the same. This is the result of us trying to present something new with a broad perspective musically." However, the Billboard complimented "I Got a Boy," saying the album, combining electronic dance music, classic and modern R&B and 80s new wave, "should more than satisfy not only K-pop fans but also listeners of all types of popular music." For the title track of the same name, the Billboard said it is "one of the most-forward thinking lead pop singles heard in any country" and the girl band "set the bar truly high for pop in 2013." Tiffany, the U.S.-born member, was thrilled about this review. "I read the review directly in English and so delighted to see the expressions describing our music, performance and fashion." The performance leans toward hip hop and the group's best dancer Hyoyeon is elated at it. "I love the music that I can dance to and immediately fell in love with this song. It's fresh and exhilarating," Hyoyeon said.  Tiffany added, "When we saw the choreography first, we thought this was only for Hyoyeon." But all the members followed up the dance routine perfectly. "It was more like what we did when we were trainees," Taeyeon said. Sooyoung said singing the full song complete with performance is like finishing a marathon. "At first, we had to take a 20-minute break after dancing to the five-minute song."
However hard the practice is, the group now seems to know how to enjoy being on stage, singing and dancing to their music. At the same time, they are like ordinary girls in their 20s offstage. During the interview, Tiffany called other members "my girls" with affectionate eyes and Sooyoung pointed out Taeyeon's red socks matching her red sweater. The lyrics of "I Got a Boy" are more like girls' chattering at a coffee shop over a variety of topics and the Girls' Generation is no exception. They don't have much free time and spend time with each other a lot, which created a strong bond among them over a six year period. "We talk a lot when we get together. It could be about fashion, food or television shows, including our performances," Yoona said.
When members of Girls' Generation do individual activities such as singing as a unit, appearing in a television drama or staging a musical, the other members are best friends in monitoring each other. "I was so proud to see Yoona and Yuri appearing in dramas 'Love Rain' and 'Fashion King,'" Tiffany said. rn rnSunny said when a member blames herself for acting or performance, others cheer them up by complementing. "We are Girls' Generation who love Girls' Generation."
After one-month promotion in Korea, the girls will be busy internationally, as they will leave for Japan to embark on their second arena tour in February.
Korean singer Psy opened up a new era of K-pop with "Gangnam Style" last year and Girls' Generation will have more opportunity in reaching farther across the globe with this album." Psy obviously changed everything and it paved a road for K-pop. If we have a good chance, we hope to go abroad and promote our music," Tiffany said. "We could head to the U.S. or the U.K. Why not a world tour?"